Join LTIIA at the 13th annual Infrastructure Investor New York Summit and the 3rd annual Women in Infrastructure Forum New York: Virtual Experience.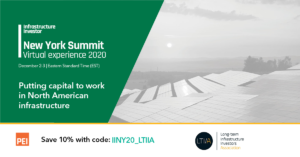 This December 2-3, LTIIA will be a supporting association at the Infrastructure Investor NY Summit: Virtual Experience . The annual event brings together the community of institutional investors, fund managers, and policy makers to debate the future of North American infrastructure investing.
Over the course of two days, attendees will engage in panel discussions, breakout sessions, think tanks and learn best practices directly from the leaders driving change in the infrastructure investing space. Key features of the event will include:
Exclusive keynote interviews featuring speakers from: Alaska Permanent Fund Corporation, BlackRock Alternative Investors and the U.S. Department of Transportation
Panel topics covering infrastructure debt, renewables/clean energy, telecom infrastructure, ESG, and much more
Invitation-only LP think tank
Women's networking roundtable (he 3rd annual co-located Women in Infrastructure Forum New York: taking place the afternoon of day 2)
Special rate for LTIIA members: As a member of LTIIA, you are entitled to a 10% discount off the Infrastructure Investor NY Forum, which includes access to the Women in Infrastructure Forum New York by applying the code IINY20_LTIIA upon checkout. Claim your discount online at http://bit.ly/2Z6xOPd or via regny@peimedia.com or by calling +1 212 633 1073.