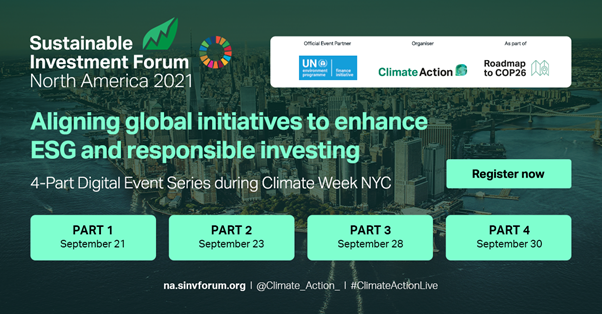 Join us at The Sustainable Investment Forum North America 2021, hosted by @Climate_Action_  a digital event taking place on 21, 23, 28 & 30 September during Climate Week NYC.
The Forum brings together asset owners and investment managers, institutional investors, pension funds, banks, development banks, policymakers, think tanks and NGOs to continue to build the momentum for sustainable finance and responsible investment. LTIIA members will participate in Sept 28th panel on:
– How infrastructure investors are contributing to SDG outcomes: engaging the private sector in a green recovery- are investors in private infrastructure assets better able to meet climate targets and achieve risk return objectives?
Register for free  now: https://bit.ly/3hHYPnW #ClimateActionLive #SINVNA #ClimateWeekNYC