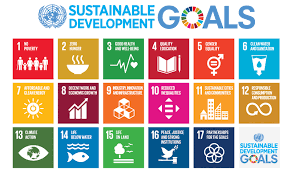 Sustainable Development Goals (SDGs) were adopted in 2015 by the UNGA to show the way towards a world  free of extreme poverty and providing  a decent level of key  essential  services to its people . Infrastructure investment is key to reaching these goals.
The SDGs encompass the global challenges that society is expecting businesses to contribute to, with the SDGs becoming the default framework that businesses reference when trying to measure impact. However, the SDGs were by their nature set at a global level and so the goals and targets are not always straightforward to operationalize for investors.
The SDGs are to be met by 2030.  But we're not yet, by far, on the right trajectory: latest forecasts  estimate that  at current trend, SDGs may only be reached by  2082, and the COVID_induced crisis is not helping.  Infrastructure investors can and should play a role in getting the progress rate back on track. This isn't just about the benefits for the wider community: it is also about the image and contribution of private sector investors, and our social license to operate in a complex and sometimes tense social and political environment. We need collectively to be able to tell the right story…
Various tools, frameworks and interpretations have arisen to assist investors and companies in assessing the environmental or social impact of infrastructure assets. However, to date none of these tools specifically address alignment with SDGs. In addition, of the tools and frameworks that do address SDG alignment:
None are specific for infrastructure, whether private or public. Those who are have been developed on a proprietary basis by pioneering investors and are not publicly  available.
Many focus on a 'pure' impact investing type of approach but arguably, infrastructure presents a special case of quasi-impact investment, requiring special consideration.
To address this challenge, the CFA Asset Owners Council (AOAC) approached GRESB, University of Cambridge Institute for Sustainability Leadership (CISL) and Africa investor (Ai) as technical partners to work with a high-level 'Brain Trust' consisting  of GRESB and half a dozen  professional organizations of investors, including LTIIA: the goal is to create a framework, narrative and benchmark for asset owners & managers to measure impact of infrastructure assets on delivery of the SDGs and ESG, and promote adoption amongst their respective networks.
The framework is predicated on the following guidelines: simplify & harmonize. The idea is not to superimpose yet another tool to the already fragmented landscape of ESG-related standards, labels and tools. It  is to  allow investors to tell  a story on how their assets contribute to  SDGs: for those investors already using  the GRESB approach, building and using the AOAC SDG framework  should  be relatively  easy.
In a nutshell, the framework identifies the SDGs (themselves broken down in sub-goals) relevant to infrastructure assets and projects and defines cases, and associated conditions, for which an SDG contribution statement can be made. Some Goals, Targets, and Indicators such as SDG1 "No Poverty", SDG2 "End Hunger", SDG16″Peace, Justice and Strong Institutions" and SDG17 "Partnership for the Goals" were not considered to be material for infrastructure and were left blank. Investors can use this framework to create an SDG Contribution Report for use in communication with stakeholders
In practice, the framework ( an XL file) allows to assess the expected contribution (positive, opportunity  to  be positive, or negative) over time at various stages of the project lifecycle on various populations ( users, employees, local communities,…) of the envisioned investment. The framework uses, as a guiding structure, the 5 dimensions from the Impact Management Project : "What", "Who" , "How Much", "Contribution" and "Risk".
Proposed usage of the framework
While there are several potential use cases for this framework, the basic use case is as follows:
1. Identify SDGs that are potentially relevant to the asset or project.
2. Obtain the necessary ESG data to compare against the relevant conditions.
3. If all conditions are satisfied for a case, then record the relevant contribution statement.
4. Copy all relevant contribution statements to an SDG Contribution Report
5. Add any important assumptions and details about the source data.
6. Use the report to communicate with stakeholders.
The final product  is a Contribution statement such as  "[the asset] makes a contribution [to SDG X.n] by having policies on […inclusion and diversity, or on the health and safety of users… ]". Though intended by Asset owners, it is fully implementable by Asset managers as well. This statement can then be used to  feed in their reporting  and communication policy.
For more info, please contact LTIIA or GRESB. A presentation webinar  will  be organized on Thu, Nov 26th to  introduce and discuss the new framework (see our Events page).
******************