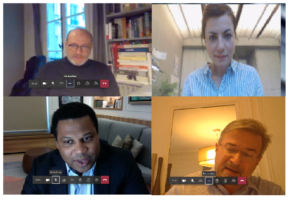 Paris, 26 March 2021 – FiC Communique
The first large network of private infrastructure  investors, LTIIA enters the Finance in Common System (FiCS) by signing its joint declaration. On the occasion of the first edition of the Finance in Common Summit, that was held last November, 450 Public Development Banks (PDBs) formed a worldwide community and reached out to the financial community at large to reorient all financial flows towards the climate and the Sustainable Development Goals (SDGs).
Infrastructure is at the heart of the Covid-19 recovery and is a critical pillar to achieve the SDGs. Investments in sustainable, resilient, safe, and quality infrastructure are crucial for medium- and long-term economic growth, the energy transition and for improving people's lives. Yet ensuring infrastructure delivers such sustainable outcomes is complex and cannot be achieved without the crowding in of private sector investors. For infrastructure financiers to reach scale and impact, an enabling environment is required in terms of policy frameworks, regulatory stability, good governance, robust institutions as well as knowledge of specific local markets.
Those are the reasons that led LTIIA, with a membership over 40 asset owners and managers, straddling  Europe, North America and Asia-Pacific,   to join today the global FiCS movement by endorsing the Joint Declaration of all Public Development Banks in the World. LTIIA is the first new partner to join after the Finance in Common Summit held last November, thus rejoining other prestigious institutions such as the International Monetary Fund, the European Commission, the Green Climate Fund, the Global Center on Adaptation, the International Chamber of Commerce, the OECD Secretariat, UNDP, and UNEP.
A first-of-its-kind, the FIC Summit (9-12 November 2020) showed the crucial role of PDBs in reconciling countercyclical responses to the Covid-19 crisis with long-term sustainable measures benefiting societies and the planet. At the Summit, the PDBs signed a Joint Declaration, inviting all stakeholders to further cooperate with them to "finance in common", to better support, collectively, the SDGs and the objectives of the Paris Agreement.
By responding to this invitation, LTIIA hopes to access the vast experience of PDBs, their knowledge, and institutional exchanges relevant to infrastructure investment. Above all, LTIIA affirms its willingness to work more closely with PDBs to help them crowd in private sector investors.
The FiCS-LTIIA collaboration can help convey investor perspectives to governments and regulators as they design policy frameworks on infrastructure. Also critical, as the developing world is facing some of the most pressing sustainability challenges is to integrate both ESG factors (environmental, social, governance) and real economy impact into all investment decisions, which is in close alignment with their investment philosophy when mobilizing public and private capital to support sustainable development.
Importantly, for this partnership to work well, private and public investors need to develop catalytic financial tools, and common norms and standards that align with the SDGs and the Paris Agreement.
This topic will be, among others, further defined by FiCS and LTIIA as they roll out a joint workstream, including the tailoring, utilizing and scaling up of approaches that allow private investors to increase post-crisis infrastructure financing.
Rendez-vous at the second FiCS Summit to engage in "finance in common" and/or follow critical "finance in common" discussions on the reorientation of development finance towards sustainability and the climate goals.
LTIIA Chair Thierry Déau said: We are pleased to join today the Finance in Common System. LTIIA is the first new partner to join after the Finance in Common inaugural Summit in November 2020, and the first organization representative of private sector investors to do so. This move reflects the shared realization that the assigned goals of building back better by working to deliver sustainable outcomes, aligned with the SDGs and the Paris Agreement cannot be achieved without the crowding in and active participation of private sector investors. Our association is fostering pioneer sustainable finance and supports other innovative initiatives that reinforce a common contribution to sustainable development. As such, our new collaboration with FiCS is another example of our willingness to help our members deliver sustainable infrastructure that improves the quality of people's lives.
IDFC Chair Rémy Rioux said: We truly welcome LTIIA's joining the Finance in Common System (FiCS), which reflects the dynamic created by all 450 public development banks (PDBs) and their capacity to ignite a strategic dialogue with all development stakeholders. This move sends a strong signal to a large set of financial actors, both on the public and private sides. It also confirms the enabling role of PDBs to work together towards a new financial architecture aligned with the Paris Agreement and the Sustainable Development Goals. LTIIA's signature is testimony to the Summit's success in linking PDBs' engagement to other initiatives and in the context of vibrant multilateral fora in 2021.
About the FiCS Initiative
The Finance in Common Summit was part of the FiCS initiative. The event was co-organized by the World Federation of Development Finance Institutions (WFDFI), the International Development Finance Club (IDFC) and the Islamic Development Bank Group, in its coordination role of all the MDBs, placed under the high patronage of Emmanuel Macron, President of the French Republic, and with the participation of UN Secretary-General António Guterres. It was convened by Agence française de développement (AFD) during the Paris Peace Forum. Its proceeds are available at www.financeincommon.org / outcomes.
Press contact: press@financeincommon.org
About LTIIA
Founded in 2014 by investors and for investors, Long Term Infrastructure Investors Association (www.ltiia.org) is a not-for-profit international professional association. Its members are institutional investors, asset owners and fund managers hailing from various jurisdictions, and collectively manage close to US$ 12 t of assets, out of which over $ 350b of infrastructure assets. They are responsible over long-term and open-ended infrastructure investment mandates. LTIIA's activities include discussion fora, public advocacy, data-collection and analysis to promote infrastructure as a full-fledged asset-class, and dissemination of best practices in ESG and sustainable infrastructure financing.
Press contact: info@www.ltiia.org